News
/
/
Andrii Kozhushko, Reebok Contributor
CARDI COMES ALIVE
We take you behind the designs of the latest collection from a modern-day icon.
Blink and you missed it. On October 11, Cardi B not only celebrated her birthday, but she also introduced her 
Cardi B Club C
 shoe at midnight. It sold out in minutes (no surprise), but those who missed their chance at owning a piece of Cardi style don't have to wait much longer.
Today, the music and fashion icon officially debuts her first full Reebok collection. With style nods to classic films of the 80s and some of Cardi's most memorable modern-day fashion moments, this collection is unapologetic and larger than life. Here's what else you need to know.
BORN IN MIAMI
Cardi's first meeting with the Reebok design team took place in Miami, which set the backdrop for a collection that's just as bold. "The design team was so energized to kill this collection," says Molly Kazarian, Footwear Product Manager. "We wanted to make sure the meeting was a true working session, so we brought in all the colors, material swatches and hardware pieces we thought Cardi would love. She really dove into the design process and gave thoughtful feedback on everything. The meeting couldn't have gone better."
"The Miami workroom almost had a clubhouse feel to it," says Zac Andrews, Footwear Design Director. "There were pictures, sketches and notes tacked up all over. It really felt like all the layers of the partnership were there hitting home on so many levels. When Cardi saw it all come to life, she lit up. She was fully engaged and had so many great ideas and feedback. It was the start of something really exciting."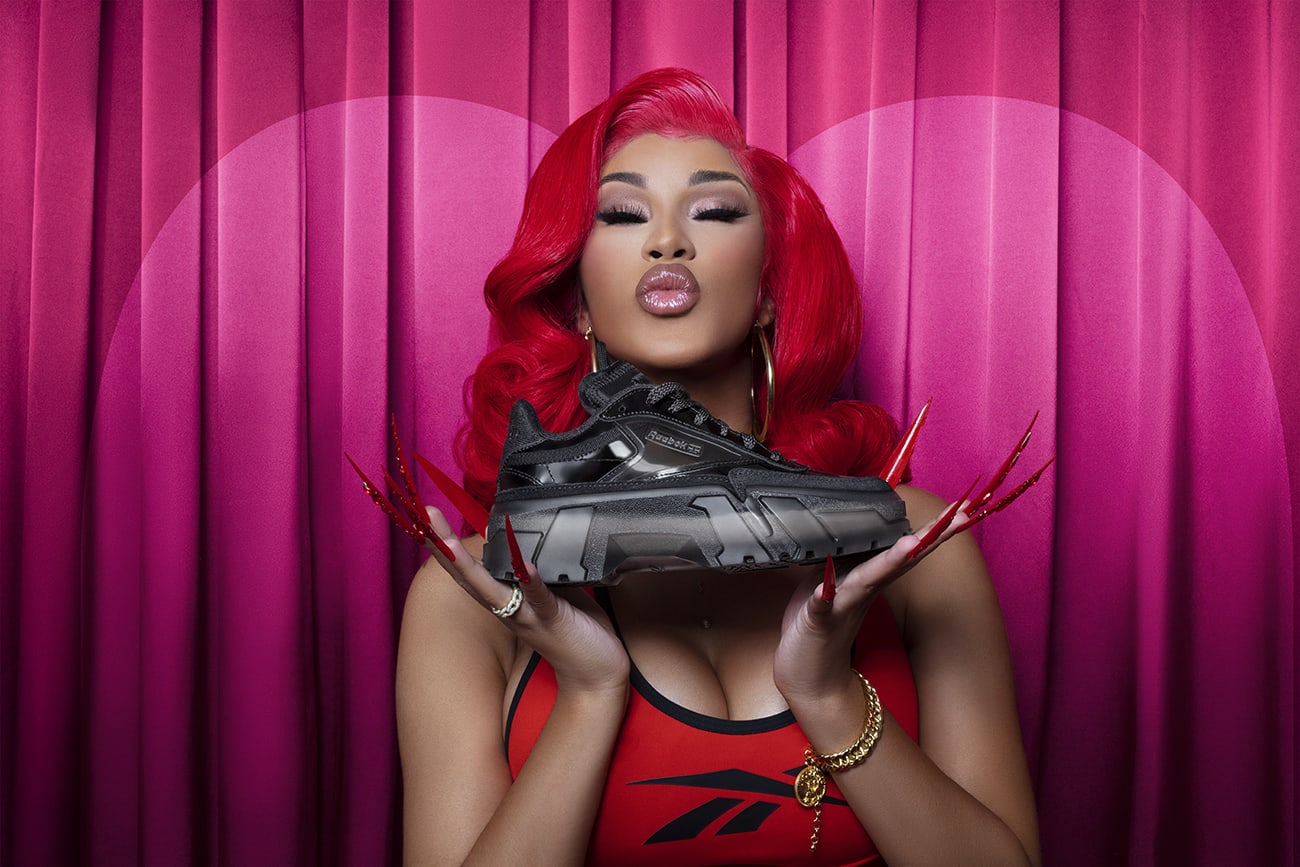 AUTHENTIC THROUGH AND THROUGH
Today's consumers (and especially Cardi fans) don't put up with bullsh*t. They can see through anything and know when a collection is a true collaboration. "I didn't want this collection to be cheesy or too girly," Cardi said. Reebok designers took that feedback and developed a bold, gladiator-esque design language that speaks to the badass quality Cardi cultivates in everything she does.
Another priority was for the Reebok x Cardi B Collection to be available to everyone, including men, women and kids. "Accessibility is so important to her, so we kept this in mind from sizing to price point," Kazarian says. "The collection's sizes range from toddlers to adults."
Andrews agrees: "From the first meeting, it was obvious how much Cardi loves her fans. She's a dedicated mother, so she had a lot of interest in the kid's shoes, which came out pretty adorable."
DETAILS, DETAILS, DETAILS
Every detail of every shoe in the Reebok x Cardi B Collection reflects some aspect of her personality. Think oversize outsoles and translucent midsoles—because, with Cardi, what you see is what you get. "Overall shape and silhouette are important to her," says Andrews. "She likes to keep things classic and not too contemporary. Which is great to hear when working with the Club C because it's so timeless."
As for colorways, every hue represents some of Cardi's most iconic fashion moments: the covers of top magazine, gala dresses, etc. "We picked her top eight fashion moments, and then Cardi gave us the interesting stories and context behind those moments," says Andrews. "She wanted to keep things fashion-forward and elevated." 
News
/
/
Andrii Kozhushko, Reebok Contributor