News
/
/
Andrii Kozhushko, Reebok Contributor
10 YOGA POSES EVERY ATHLETE SHOULD DO DAILY
Lengthen your stride and strengthen your core with these total-body moves.
If you're looking to improve flexibility and increase range of motion, yoga holds the key. But there are other reasons to include yoga in your
daily regimen
, especially if you're an athlete. For starters,
yoga
can help reduce stress, prevent injuries, increase mental focus, enhance strength and more, which is why it seamlessly serves as the perfect companion to any sport. 
CAT-COW POSE (MARJARYASANA-BITILASANA)
When combined, these two yoga poses create a flow of synchronized breathing. Start your session with cat-cow to help warm up the spine and release tension.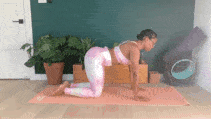 To do this pose: Begin on your hands and knees, wrists directly below shoulders and knees below hips. Fingertips should face forward. Keeping your head in a neutral position, set your gaze at the floor. Exhale and round spine up toward the ceiling, dropping your head. Draw abdominals in toward your spine, while keeping hips lifted. Inhale, uncurl your spine and arch your back, lifting your chest and glutes up toward the ceiling. Set gaze forward. Repeat 10 times.
DOWNWARD FACING DOG (ADHO MUKHA SVANASANA)
This foundational pose stretches calves, shoulders and hamstrings while strengthening arms and legs.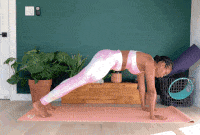 News
/
/
Andrii Kozhushko, Reebok Contributor